La chaire Cyber CNI organise sa 4e université d'hiver « Future-IoT: IoT meets Cyber »
La chaire cyber CNI organise sa 4ème « université d'hiver » à Rennes sur le thème « Future-IoT: IoT meets Cyber ».
Du 29 novembre au 1er décembre 2021: https://school.future-iot.org/
Les logiciels sont le moteur des infrastructures critiques qui nous entourent, comme l'approvisionnement
en eau ou en énergie, la communication, le transport, les banques, la production ou les services de santé.
L'édition de cette année se concentre sur différents aspects du cyberespace logiciel, notamment la
cybersécurité.

Marc-Oliver Pahl, lead-organizer of the summer school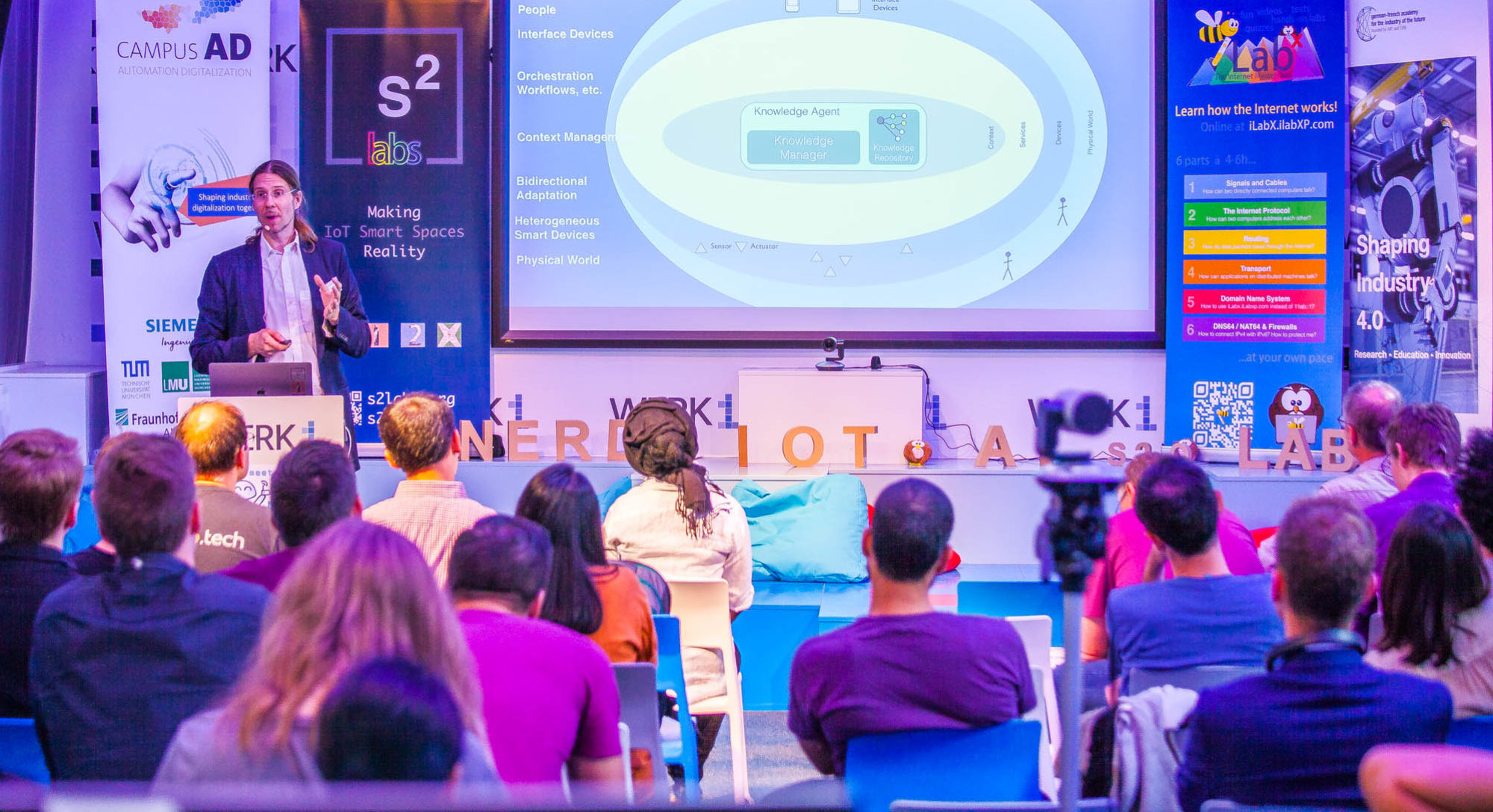 An impression from the 2nd edition "IoT meets AI" in Munich…

Cet événement s'adresse aux doctorants, étudiants en Masters, salariés en formation continue, industriels,
académique en France et à l'international.
Il est ouvert à tous gratuitement en live sur YouTube et LinkedIN. Mais pour ceux qui souhaitent participer en mode interactive ou sur place à cette 4ème édition, l'inscription est à partir de 30 euros, avec l'avantage de discuter de ses travaux avec d'autres participants, de pouvoir participer aux challenges industriels en teams et de rencontrer de nombreux experts du secteur de la cybersécurité (académiques et industriels) – https://school.future-iot.org/speakers-organizers21/
Le nombre de participants à Rennes sur place est limité à 40 personnes. Le nombre de participants en ligne
n'est pas limité.
Voici le lien sur le programme : https://school.future-iot.org/
Informez vos amis intéressés et inscrivez-vous avant le 15 Octobre 2021 : https://school.future-iot.org/register
A propos de la série des événements future-iot.org (https://future-iot.org/)
La série d'écoles doctorales Future-IoT.org a lieu une fois par an depuis 2018. Les éditions précédentes sont "IoT meets Industry (2018, St Malo)", "IoT meets AI (2019, Munich)", "IoT meets Security (2020 dans le cyberespace)".
La série est organisée par IMT Atlantique et la Technische Universität München en tant qu'événement phare de l'Académie Franco-Allemande pour l'industrie du futur. La série franco-allemande est soutenue par la Deutsch-Französische Hochschule / Université Franco-Allemande.
Future-IoT.org relie le monde universitaire et l'industrie. Par conséquent, la série est en collaboration avec des partenaires industriels de premier plan en France et en Allemagne, notamment Airbus, ArianeGroup, Atos, AWS, elm.leblanc, Siemens et plusieurs autres partenaires industriels.
L'école d'été Future IoT offre un mélange passionnant de conférences, de travaux pratiques et de défis de type hackathon. Il y a aussi beaucoup de place pour faire connaissance, créer des réseaux et explorer notre ville d'accueil !
A propos La Chaire CYBER CNI d'IMT Atlantique (https://cybercni.fr)
Lancée en janvier 2016 dans la dynamique du Pôle d'excellence cyber, la Chaire Cybersécurité d'IMT Atlantique a pour objectif de contribuer au développement, au niveau international, des activités de recherche et de formation dans un domaine devenu une priorité nationale : la cybersécurité des infrastructures critiques (réseaux d'énergie, processus industriels, usines de production d'eau, systèmes financiers, …). Les travaux de recherche de la chaire cyber CNI s'articulent autour de 4 axes :
Analyse avancée de données à des fins de cybersécurité,
Définition de métriques pour l'analyse des risques de sécurité,
Réponse à des événements multiples et coordonnés,
Collecte, génération et mise à disposition de données pour la cybersécurité
Des résultats qui vont intéresser plusieurs secteurs d'activité comme : les systèmes de contrôle industriels, les applications véhiculaires, les grands réseaux de communications, le cloud computing
La chaire est portée par IMT Atlantique en collaboration avec Télécom ParisTech et Télécom SudParis. Elle accueille des chercheurs reconnus mondialement dans le domaine de la cybersécurité, organise des colloques internationaux et a pour but de renforcer la coopération avec d'autres chaires internationales sur la même thématique. Les contributions financières des entreprises partenaires sont gérées par la Fondation Télécom qui accompagne, sur le long terme, la mise en œuvre de partenariats d'intérêt général entre l'Institut Mines-Télécom, ses écoles Télécom et les entreprises sur les grands enjeux technologiques et sociétaux du numérique.
Parallèlement au Conseil Régional de Bretagne qui a investi dans cette thématique de recherche (notamment dans le cadre du Pôle d'excellence cyber), cinq partenaires industriels ont donné leur accord pour contribuer à cette chaire : Airbus Defence and Space, Amossys, BNP Paribas, EDF et NokiaBell Labs. Outre leur intérêt direct pour les avancées scientifiques attendues, ces partenaires bénéficient d'un vivier d'experts plus large, apte à répondre à leurs besoins croissants dans le domaine de la cybersécurité des infrastructures critiques. La dualité civile et militaire de ce domaine permet également de travailler étroitement avec les agences gouvernementales. La Chaire contribue au rayonnement du Pôle d'excellence Cyber, signé entre l'Etat et différents acteurs de la recherche publique en cyber sécurité, dont IMT Atlantique pour le compte de l'Institut Mines-Télécom.
Cette chaire offre aux élèves des écoles de l'Institut Mines-Télécom la possibilité de développer une expertise unique en cybersécurité des infrastructures critiques, domaine dans lequel les besoins en compétences vont s'avérer importants pour les secteurs de l'industrie et des services, allant des PME innovantes aux grands groupes industriels.
Latest posts by Priscillia Creach
(see all)