Séminaire de la Chaire Cyber CNI à EDF LAB Paris-Saclay
10 octobre 2018
La Chaire Cyber CNI va à la rencontre de ses partenaires industriels. Le mercredi 10 octobre 2018, elle propose une journée de séminaire sur le site d'EDF LAB Paris-Saclay, dans l'Essonne, installé au cœur du Campus Paris-Saclay.
1 000 chercheurs et techniciens travaillent sur ce site, avec des centres d'expertises variés : mécanique vibratoire, génie logiciel, mathématiques et simulation numérique, économie de l'électricité, management des risques industriels, NTIC et architectures de comptage et digitales, traitement des méga-données, relation client et création de nouveaux services… Ouvert en septembre 2016, il accueille 20 000 stagiaires par an, de l'apprenti au dirigeant, avec pour ambition de former et de professionnaliser les salariés du Groupe EDF et les préparer au monde énergétique de demain.
Stéphane Tanguy, directeur des Systèmes et Technologies de l'information EDF LAB Paris-Saclay, et Frédéric Cuppens, Professeur IMT Atlantique / Porteur de la Chaire Cyber CN, introduiront cette journée.
Les 5 axes thématiques de cette journée
Dans un objectif de formation et de professionnalisation des salariés du groupe EDF (une quarantaine de représentants des différents métiers d'EDF), la Chaire Cyber CNI interviendra sur le thème général de la Cybersécurité des infrastructures critiques pour rendre compte de ses travaux autour de 5 axes thématiques. Des participants issus d'Orange et de l'IRT SystemX, Institut de Recherche Technologique dédié au domaine de l'ingénierie numérique du futur, bénéficieront également de ces présentations.
Axe 1 : Analyse avancée des données
Détection des cyberattaques par l'utilisation de méthodes d'apprentissage automatique (Guillaume Ansel)
CyberCOP 3D : visualisation 3D interactive et collaborative de l'état de sécurité d'un système informatique (Alexandre Kabil)
Axe 2 : Métriques pour la sécurité
Diagnostic de défaillances et de malveillances dans les systèmes de contrôle industriel (Edwin Bourget)
Taming Security Metrics (Thomas Robert)
Axe 3 : Résilience et réponse à incident
Résilience aux attaques contre les infrastructures critiques par analyses préventives des défaillances d'origine malveillante et leurs impacts (Thomas Clédel)
Contrôle de la rétroaction et gestion de la tolérance aux attaques (Mariana Segovia)
Axe 4: Gestion sécurisée des données
Traceability and control of integrity in critical infrastructure (Raphaël Larsen)
Co-simulation of Cyber-Physical Attacks against Networked-Control Systems (Jose Manuel Rubio Hernan)
Axe 5 : Axe transverse
Prise en compte des objectifs et impératifs métier dans les systèmes de supervision de cyber sécurité (Stéphane Grunenwald)
Human factors in security of critical systems (Vivian Rooney)
Simon Foley, Directeur de recherche de la Chaire Cyber CNI, complètera ces interventions en exposant la feuille de route des travaux à venir de la Chaire (phase 2) avant la conclusion de Youssef Laarouchi, représentant d'EDF dans le comité opérationnel de la chaire Cyber CNI.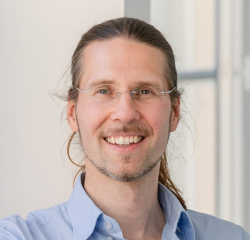 Latest posts by Marc-Oliver Pahl
(see all)