Chaire CyberCNI @EDF Paris (21.9.2021)
On Sep 21, 2021, we had the pleasure to visit our partner EDF in Paris Palaiseau! Together with Youssef Larouchi from EDF, we organized a full day with presentations, demos, and a visit in the EDF lab. The day ended with the COOP of the chair where, among others, we discussed new topics for phase 3.
We had excellent discussions with the EDF researchers and enjoyed a fantastic tour of the EDF lab. There, the guide presented us many of EDF's projects, ranging from environmentally friendly projects to artificial intelligence-based projects. And we got to know COBOT, the friendliest robot you'll ever meet.
Program of the day
10h00 Youssef LAAROUCHI : Welcome
10h10 Marc-Oliver PAHL : La chaire cyberCNI.fr
10h30 Léo LAVAUR, T9 : Federated learning for defending Cyber-Attacks
10h50 Awaleh HOUSSEIN MERANEH, T1 : Automated learning and handling of Cyber-Physical Attacks
11h10 Julius BÜNGER : Keeping software in massive IoT installations up-to-date
11h30 Hassan CHAITOU, T4 : Optimisation du risque de sécurité pour l'apprentissage sur données de qualité hétérogène
11h50 Mariana SEGOVIA, Post-Doc 1 : Switch-based Resilient Control of Cyber-Physical Systems
12h10 Nicolas DELCOMBEL, T2 : Cyber Sécurité en Réalité Virtuelle
12h30 Anthony David, Immersive Cybersecurity
12h50 Marc-Oliver Pahl : Cyber CNI testbed
13h00 Demo Augmented Reality for Cybersecurity (Nicolas, Anthony)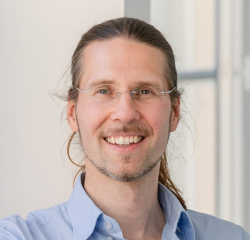 Latest posts by Marc-Oliver Pahl
(see all)