Best poster award for Léo Lavaur
Our PhD student Léo Lavaur has won a best poster award at the Colloque de la communauté « Risques & Cyber » : Sécurité et Résilience of Institut Mines Télécom. Congratulations ! Léo presented his poster entitled "Trustable Federated Learning for Intrusion Detection in Heterogeneous Systems" on the 13 avril 2023 at the Campus Palaiseau. The jury awarded his poster for the clarity of the poster and the explanations he gave.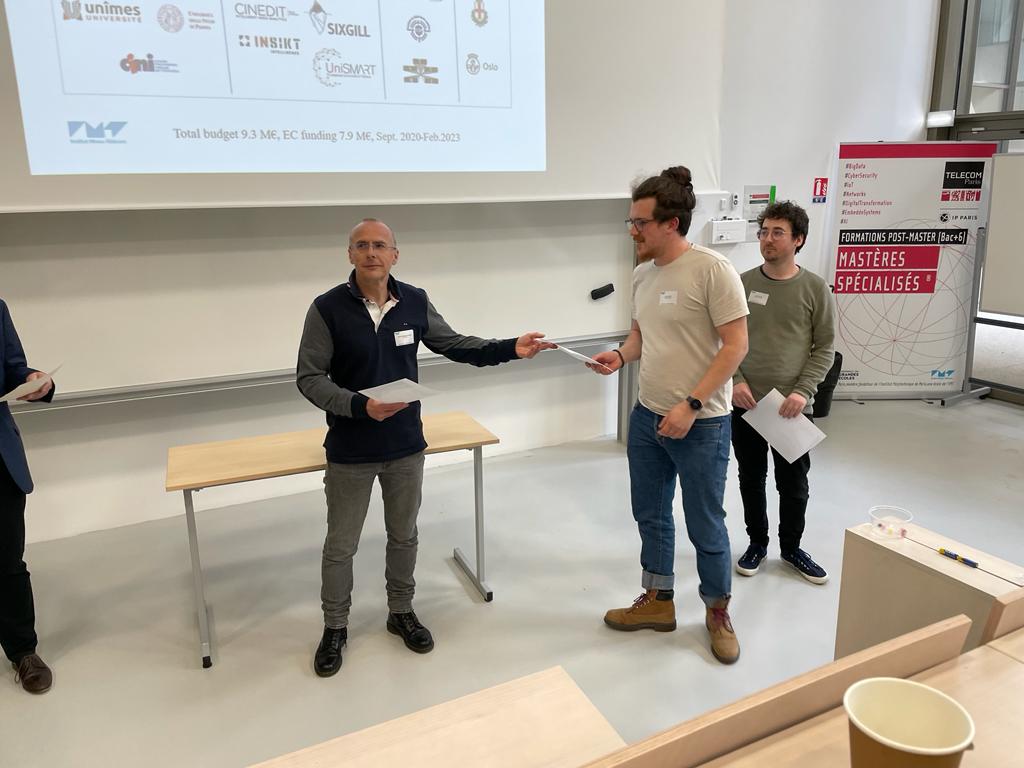 The best poster awards were handed over by Jean-Christophe Baudez and Hervé Debar to Anthony ZGHEIB, Léo LAVAUR, and Alexis EVAIN. Big congratulations to you all for this great achievement!
The poster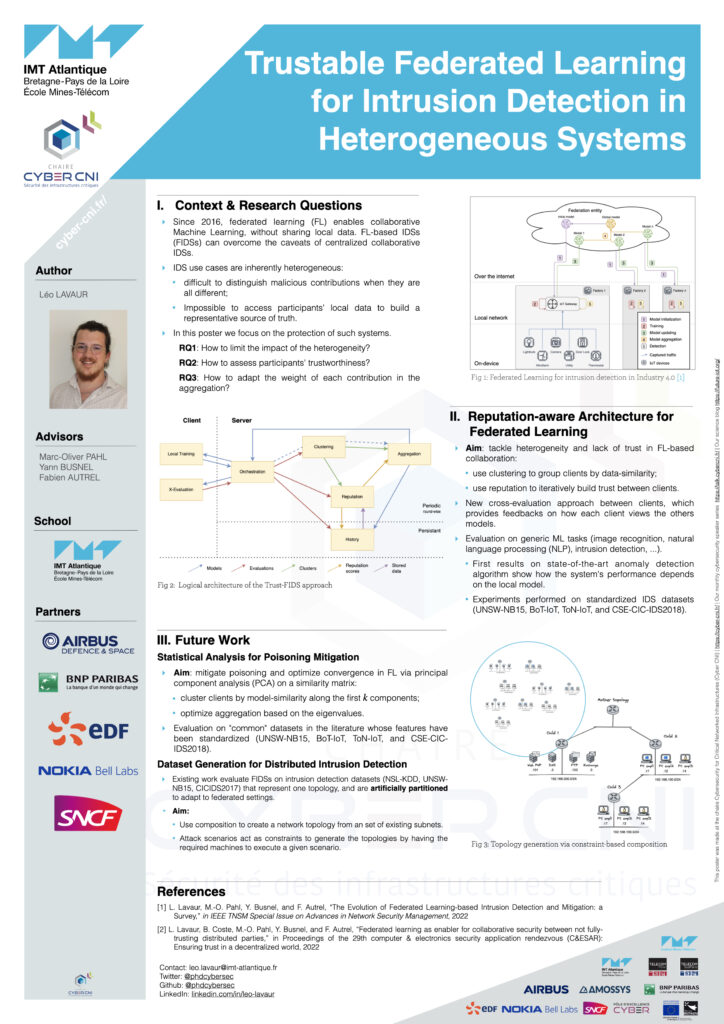 This poster goes over a proposed strategy for protecting collaborative detection systems that rely on federated learning (FL). The proposed approach is based on a cross-evaluation mechanism that allows participants to directly assess the contributions of their peers. These feedbacks are then used in clustering to group participants based on their estimated data distribution, and in a reputation system that weights contributions according to the trustworthiness of their author.
The Community Risk & Cybersecurity
The "Risk and Cybersecurity" research area focuses on a major challenge for society: the risks posed by the increasing digitization of all the objects and services we use every day by natural or industrial factors.
It addresses concepts, methods, means and tools to protect people and property (tangible and intangible) against failures whether man-made and intentional (e.g. Cyber threats) or accidental (natural or industrial disasters, such as floods, health crises, fire, explosion, marine pollution etc.)
Léo Lavaur
Léo is a third-year PhD student from the chair, hosted at IMT Atlantique (Rennes). His work focuses on the application of FL to intrusion detection, and especially three challenges: performance in heterogeneous contexts, trust management and contribution quality assessment, and the evaluation of said systems.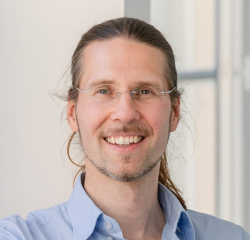 Latest posts by Marc-Oliver Pahl
(see all)