We won the NOMS 2023 Best Demo Award!
Our paper "Distributed Device-Specific Anomaly Detection for Resource-Constrained Devices" by Christian Lübben and Marc-Oliver Pahl won the NOMS 2023 demo award! The demo showed how anomaly detection can be distributed on multiple devices, allowing a low latency resource-efficient detection of anomalies. It was selected out of 9 demos from different actors from industry and academia. What a great success!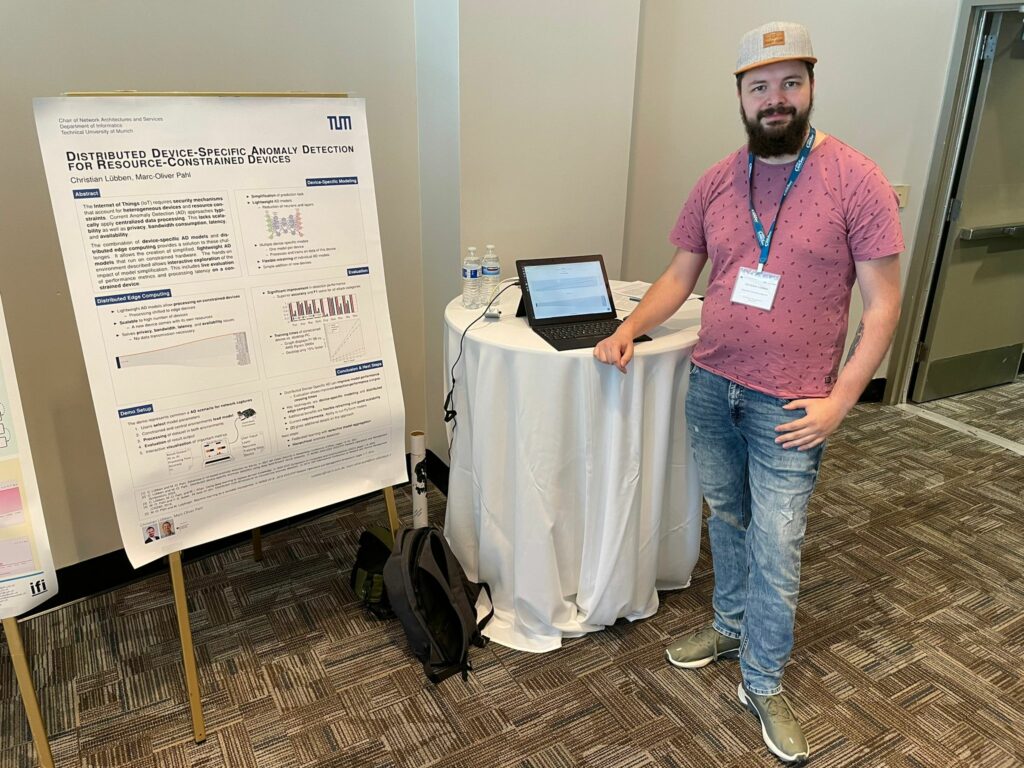 Abstract of the demo
The Internet of Things (IoT) requires security mechanisms that account for heterogeneous devices and resource constraints. Current Anomaly Detection (AD) approaches typically apply centralized data processing. This lacks scalability as well as privacy, bandwidth consumption, latency, and availability. The combination of device-specific AD models and distributed edge computing provides a solution to these challenges. It allows the creation of simplified, lightweight AD models that run on con- strained hardware. The hands-on environment described allows interactive exploration of the impact of model simplification. This includes live evaluation of performance metrics and processing latency on a constrained device.
A propos Network Operations and Management Symposium (NOMS) 2023
Welcome to the 2023 IEEE/IFIP Network Operations and Management Symposium (NOMS 2023). Held in every even-numbered year since 1988 with its sister conference IFIP/IEEE International Symposium on Integrated Network Management (IM), the 2023 edition is the 36th NOMS edition and the first ever taking place on an odd-numbered year bringing together the best of both outstanding conferences, a great achievement for the network management community.
In addition to being an historical event for the scientific community, NOMS 2023 will host an exciting program including keynotes, panels, technical sessions, demo sessions, dissertation session, mini-conference sessions, poster sessions, tutorials, and workshops. These events provide rich opportunities for participants to learn, share, exchange, and set the current and future directions and developments of network operations and management.
NOMS 2023 comes at the right time where the networks and services play a critical role in new value creation, businesses growth but also in contributing to the development of humanity.
This year's theme is "Integrated Management Towards Resilient Networks and Services."
Technologies evolve at a fast pace in networking: 5G networks are being deployed and 6G network technological components are already developed and the overall architecture is in an active specification phase. Softwarization is being generalized at all levels of the protocol stacks and agile processes are in place to speed up dynamic service delivery and quality assurance across the globe and beyond. Digital twins of networks emerge to ease and automate the huge demand on monitoring, control and management of the underlying highly dynamic environments. Finally, numerous machine learning approaches are already utilized for optimized control, security and management.
Recent history has shown that the dynamics and manageability of networks are major value to maintain connectivity and service quality under extreme external conditions like the pandemics or in a situation of war. All-level programmability also opens new challenges to make the complex task of networking resilient.
NOMS 2023 is becoming a reality thanks to the involvement of all those in the network and service management community who share their passion for the field and who spend time to its development: participants, sponsors, authors, PhD and Master students, engineers working in the field, TPC co-chairs and members, Workshop, tutorial, session organizers and many more. As General Co-Chairs, we are extremely proud and happy to help the field grow !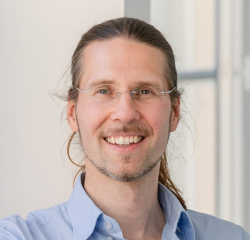 Latest posts by Marc-Oliver Pahl
(see all)