Co-organization and strong participation at the Network Operations and Management Symposium (NOMS) 2022 in Budapest
The chair cyberCNI.fr took part in the organizing committee of the 2022 Network Operations and Management Symposium. It also organized a panel on cybersecurity and a workshop on managing the Internet of Things. In addition, 5 research papers were presented with members of the chair.
The Network Operations and Management Symposium (NOMS) is the flagship conference of the management community. This community covers various aspects of management and since many years our chairholder Marc-Oliver Pahl is actively pushing cybersecurity. The symposium happened from April 25-29, 2022 in Budapest with about 180 participants on-site and 180 people remote.
Research Presentations
Foremost, the chair had a very strong presence with five presentations with at least one member of the chair implied. More infos on the papers follow in the weekly research highlights on the website:
NOMS 2022 – Full paper Manel Smine, David Espes, Marc-Oliver Pahl, "Optimal Access Control Deployment in Network Function Virtualization"
NOMS 2022 – Short paper Lars Wüstrich, Sebastian Gallenmüller, Marc-Oliver Pahl, Georg Carle, "AC/DCIM: Acoustic Channels for Data Center Infrastructure Monitoring"
NOMS 2022 – Short paper Christian Lübben, Marc-Oliver Pahl, "Autonomous convergence mechanisms for collaborative crowd-sourced data-modeling"
NOMS 2022 Workshops – Manage-IoT 2022 / Full paper Valentin Dimov, Erkin Kirdan, Marc-Oliver Pahl, "Resource tradeoffs for TLS-secured MQTT-based IoT Management"
NOMS 2022 Workshops – Manage-IoT 2022 / Full paper Christian Lübben, Simon Schäffner, Marc-Oliver Pahl, "Continuous Microservice Re-Placement in the IoT"
Panel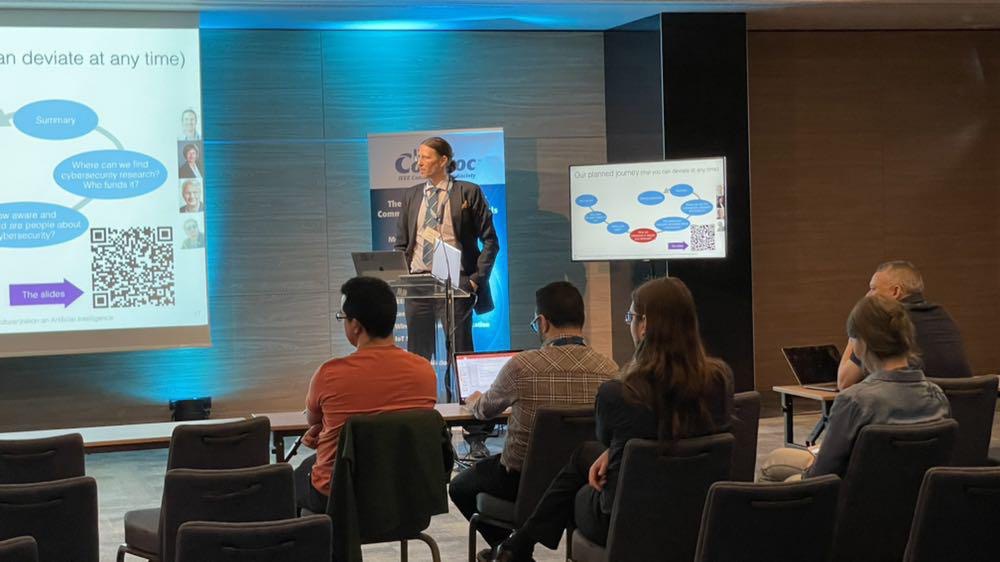 Underlining the role of cybersecurity and the leading role of the chair in the domain, our chairholder Marc-Oliver Pahl organized a panel on "Cybersecurity as Enabler for Managing the Era of Cloudification, Softwarization an Artificial Intelligence". The international panelists were:
Gabi Dreo Rodosek, Bundeswehr University Munich, Germany
Aiko Pras, University of Twente, The Netherlands
Stuart Clayman, University College London, UK
The discussion was very interesting spanning the range around the questions:
Who are we?
Why does the topic matter to us?
What is the topic?
What are milestones in attacks and defenses?
How aware and educated are people about cybersecurity?
Where can we find cybersecurity research? Who funds it?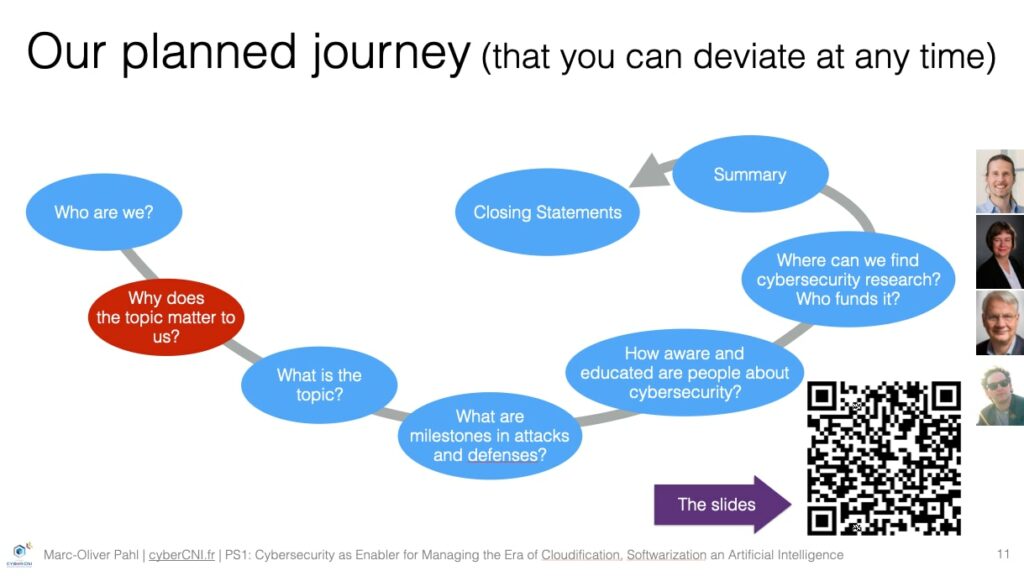 The slides of the panel can be found here: https://cyberCNI.fr/presentations/2022-04-25_Panel_CyberSec_NOMS2022_pahl.pdf
The video of the panel will be published in the upcoming weeks in the blog.
Workshop Manage-IoT
The Manage-IoT workshop series was co-founded by Marc-Oliver Pahl in 2018. Since then it was happening under different names (DOMINOS, HotNSM). Under the name Mange-IoT this was the second edition. The strong submission number and the very strong participation with more than 40 people on-site and online show that the workshop became an important part of the NOMS program that is well received by the community.
The Internet of Things (IoT) emerges as a major architectural paradigm for achieving machine-to-machine (M2M) communication. Managing IoT-based systems is complex and exciting. Though being an evolution from classical management, managing IoT things is still disruptive as classical assumptions about connectivity, compute resources, or usage patterns do not hold anymore. The manage-IoT workshop focuses on management methodologies for the Internet of Things, including resource, data, service, and security management.
A propos Network Operations and Management Symposium (NOMS)
The conference website can be found here: https://noms2022.ieee-noms.org/.
WELCOME MESSAGE BY GENERAL CHAIRS
Welcome to the 2022 IEEE/IFIP Network Operations and Management Symposium (NOMS 2022) 25-29 April 2022. NOMS has been held in every even-numbered year since 1988. This is the 34th anniversary of NOMS; we warmly welcome you all to participate and celebrate the long and successful tradition of this conference series.
We are proud to continue our tradition with a number of exciting programs at NOMS 2022. We are sure you will enjoy our exciting program including keynotes, panels, technical sessions, demo sessions, dissertation session, mini-conference sessions, poster sessions, tutorials, and workshops. These events provide rich opportunities for participants to learn, share, exchange, and identify the current and future directions and developments of network operations and management key issues.
It's been an excellent growth in recent years for the NOMS community. A lot of new and challenging research and developments have been ongoing worldwide, including Artificial Intelligence, 5G networks, software defined infrastructures, cloudification, open source networking, IoT, not to mention the 4th industrial revolution. We have set the main theme to "Network and Service Management in the Era of Cloudification, Softwarization and Artificial Intelligence" for this year to emphasize the strong demands for softwarization, digitalization, cloudification, as well as AI-driven management of the more and more complex network and service environments.
It has been an honor serving as the NOMS 2022 General Chairs. We would like to thank our volunteers, sponsors, and partners for their dedication and support. We are very grateful to all of you for your continual support.
Sincerely,
Pal Varga, General Co-Chair
Lisandro Zambenedetti Granville, General Co-Chair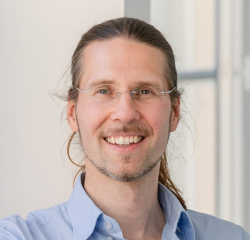 Latest posts by Marc-Oliver Pahl
(see all)