cyberCNI.fr Research Update Spring 2022
La chaire cybersécurité des infrastructures critiques (cyberCNI.fr) organise son "Research Update" le 20 mai prochain de 10 h à 17 h. Cet événement qui se tient 2 fois par an est l'occasion de présenter les travaux actuels de la chaire. Il a lieu sur le campus de Rennes, mais tu peux le suivre en visioconférence chez Télécom SudParis à Palaiseau, ou via YouTube et LinkedIN. Merci d'informer et inviter vos amis en partageant le post !
Streaming en direct sur :
Program for the cyberCNI.fr Research Update on 20.5.2022
Time
10h00
Welcome note
10h15
Keynote Youssef Laarouchi (Chef de projet en cybersécurité chez EDF R&D), "Nouveaux enjeux Cyber pour EDF"

Abstract
EDF fait partie des membres fondateurs de la chaire cyber CNI. Pour un industriel comme EDF, cette chaire présente l'opportunité de traiter de problématiques techniques complexes dans un environnement partenarial riche. Cet environnement permet de partager avec d'autres industriels des verrous qui sont regardés par des académiques de renommée internationale, afin de les adapter au mieux aux besoins métiers.

About Youssef Laarouchi (chef de projet en cybersécurité chez EDF R&D)
Youssef Laarouchi représente EDF R&D au sein du Hub Cyber de Systematic, au sein du Comité Opérationnel de CyberCNI, une chaire commune avec l'Institut Mines Télécom, et est co-responsable du laboratoire SEIDO, un laboratoire commun entre EDF R&D et Télécom Paris. Il a précédemment travaillé comme ingénieur de recherche et chef de projet chez Renault, où il a participé à la définition et à l'évaluation de projets portant sur la sécurité des nouveaux véhicules. Youssef est titulaire d'une HDR (Habilitation à Diriger les Recherches) obtenue en 2020 et d'un doctorat obtenu en 2009 à l'Université de Toulouse, financé par Airbus France et le LAAS-CNRS. Il a reçu son diplôme d'ingénieur en télécommunications de l'ENSEIRB et un master de recherche de l'Université de Bordeaux en 2006. Il prépare actuellement un Executive Master à l'Ecole polytechnique, promotion 2020.
11h00
Pause café
Axis 1: Prevent (Security-by-Design)
11h30
Mariana SEGOVIA-FERREIRA, Control-theoretic Techniques to Guarantee Graceful Degradation and Attack Tolerance on Industrial Control Systems [PostDoc] [TSP]
11h50
Zeinab Ibrahim Rahal, Jumeaux numériques pour la cyber-sécurité [PhD] [TSP]
12h10
Manel SMINE – Software-defined Security for Network Function Virtualization
12h30
Hassan CHAITOU, T4 : Optimisation du risque de sécurité pour l'apprentissage sur données de qualité hétérogène [PhD] [TP]
12h50
Lunch break
Axis 2: Detect (Anomaly Detection)
14h00
Léo LAVAUR, T9 : Federated learning for defending Cyber-Attacks [PhD] [IMTA]
14h20
Awaleh HOUSSEIN MERANEH, T1 : Automated learning and handling of Cyber-Physical Attacks [PhD] [IMTA]
Axis 3: Mitigate Self-Defend Security Incidents Self-Recover from Security Incidents
Axis 4: Human-in-the-loop, Innovative interfaces, Mixed Reality, Data Analytics, Configuration, Live interaction, collaborative actions
14h40
Nicolas DELCOMBEL, T2 : Cyber Sécurité en Réalité Virtuelle [PhD] [IMTA]
15h00
Anthony David, Immersive Cybersecurity [PhD] [IMTA]
15h20
Closing (Marc-Oliver Pahl)
15h30
Coffee and demos (Fabien Autrel, Nicolas Delcombel, Awaleh Meraneh, et al.)
À propos de la mise à jour de la recherche de cyberCNI.fr
La mise à jour de la recherche de cyberCNI.fr (https://cyberCNI.fr/) (printemps/automne) a lieu une fois par semestre. C'est le grand événement de la chaire Cyber CNI. Tous les travaux autour de la chaire (doctorants, post-docs, ingénieurs, …) présentent leurs progrès, leurs travaux actuels et leurs prochains défis. Il y a des discussions essentielles avec le public sur les sujets abordés. C'est l'occasion idéale d'avoir une vue d'ensemble et de discuter de ce qui se passe à la chaire.
À partir de l'événement du printemps 2022, les mises à jour sur la recherche commencent par une présentation industrielle de l'un de nos partenaires, qui donne un aperçu de son travail et le met en valeur.
À propos de la chaire Cybersecurity of Critical Networked Infrastructures (cyberCNI.fr)
La chaire Cyber CNI d'IMT Atlantique est consacrée à la recherche, à l'innovation et à l'enseignement dans le domaine de la cybersécurité des infrastructures critiques, notamment les processus industriels, les systèmes financiers, l'automatisation des bâtiments, les réseaux d'énergie, les stations de traitement des eaux, les transports.
La chaise couvre la pile complète, des capteurs et actionneurs et leurs signaux sur les systèmes de contrôle industriels, les services distribués à la périphérie ou dans le cloud, aux interfaces utilisateur avec la réalité mixte collaborative, et les politiques de sécurité.
La chaire accueille actuellement 9 doctorants, 4 post-docs, 11 professeurs, 2 ingénieurs et 1 étudiant en stage. La chaire gère un grand banc d'essai qui permet de mener des recherches appliquées en collaboration avec les partenaires industriels. Les partenaires industriels du troisième cycle de financement actuel sont Airbus, Amossys, BNP Paribas, EDF et la SNCF.
La chaire est située en Bretagne, en France. La Bretagne est la région de cybersécurité numéro 1 en France. La chaire Cyber CNI est fortement ancrée dans l'écosystème de la cybersécurité grâce à ses partenariats avec le Pôle d'Excellence Cyber (PEC) et la Région Bretagne. La chaire offre un environnement unique pour la recherche en cybersécurité avec de nombreuses possibilités de développement.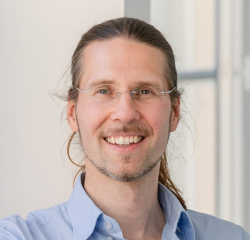 Latest posts by Marc-Oliver Pahl
(see all)